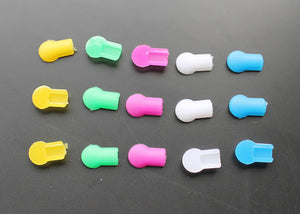 These end caps fit directly onto the end of the 12v Silicone Neon Flex. They are glued on flush as opposed to going over the end of the Neon Flex.
If you are looking to provide the most professional finish to your Neon artwork then we would always recommend using this variety of end cap.
We stock them in all colours for both sizes of our 12v Silicone Neon Flex, if we are out of stock of the colour you require to match your Neon Flex then we will we send out clear end caps (some people prefer to use clear end caps regardless of the colour of the Neon flex you are using.).